Welcome to the website of the Brindabella Motor Sport Club - Rallying In The ACT
The BMSC is based in Canberra in the Australian Capital Territory. However, residence is not a prerequisite for membership - our members reside in all parts of the country. Although our members participate in many disciplines of motorsport, we are chiefly a rally oriented club and conduct several special stage rallys each year. Our members can be found at events of all levels across the country, from small club events, right up to the WRC (World Rally Championship).
Please
create an account
to gain the full functionality of this site.
» News
2015 PCD Engineering Rallye des Femmes - Seeded Entry List
Nov 13, 2015 - 7:30 AM - by Marty
Seeded Entry List
202 Views
2015 PCD Engineering Rallye des Femmes - Spectator Instructions
Nov 12, 2015 - 8:52 PM - by Marty
The countdown is on!

We have a great field - the friendly banter has begun!

Here are the Spectator Instructions for Saturday.
114 Views
Tumut Bondo Results
Oct 18, 2015 - 12:23 AM - by Adrian
attached are the results for today's event,

Our thanks to all the crews, officials, the Canberra WICEN club, the Tumut scout group for the catering and especially Di Stephens who was thrown in the deep end as the event secretary

Adrian Dudok
416 Views
Tumut Bondo start list
Oct 13, 2015 - 8:19 PM - by Adrian
Attached please find the DRAFT seeded start list for Tumut Valley and bondo forest rallies.
As per usual constructive comments before we hand it to the Stewards welcome

Also the spectator instructions
356 Views
BMSC November Club Meeting - PowerKarts Fyshwick
Sep 30, 2015 - 12:47 AM - by MT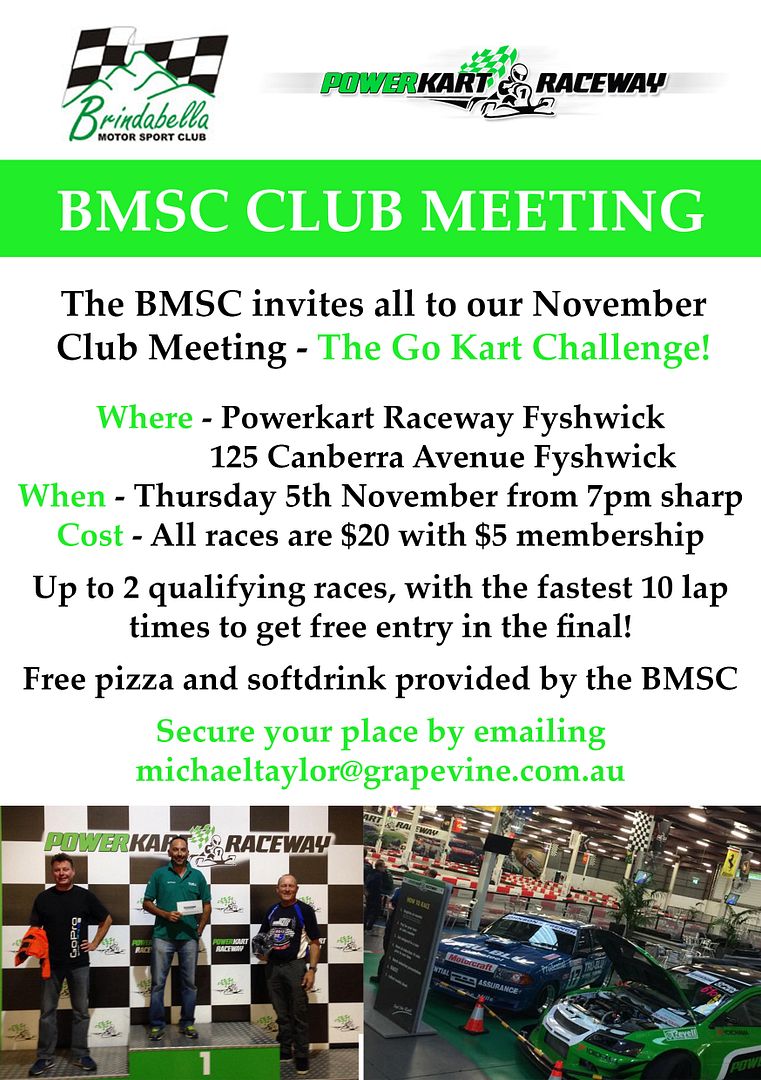 345 Views
Rally NSW Ultimate Navigating Experience
Sep 29, 2015 - 10:11 PM - by MT


An incredible opportunity up for grabs with the Ultimate Rally Navigating Experience Competition by Rally NSW

The Ultimate Rally Navigating Experience is a once-in-a-lifetime opportunity for a novice to receive invaluable tuition and experience; setting them up for a great future in the sport of rallying. Rally NSW is searching for an enthusiastic and passionate novice to sit beside ARC Privateers Champion Driver and Rally NSW personality, Charlie Drake, competing in his new Toyota Sprinter.

Along with entry and accommodation in five rally events, the winner of the competition will receive a prize pack including competition licences, gear and private tuition sessions, giving them the best possible start in the sport.

Rally NSW is dedicated to initiatives that will continue to see the sport of rallying grow in NSW, and this competition provides an excellent opportunity to introduce new people to the sport. Through the winner's personal written account of the experience and short videos produced following each event, Rally NSW aims to illustrate to the wider community how easy it is to get involved in the sport.

Rally NSW Chairperson, Katie Fletcher said, "when Charlie explained his idea for the competition, the entire team was eager to find a way to make it happen. Getting started in rallying isn't as hard as people seem to assume and we'll be able to prove that with this competition!"

Charlie Drake has been the face of Rally NSW since it began in 2014, appearing at rounds of the NSW Rally Championship to interview competitors. He has been a competitor in rallying since 2006, and won the Privateers Championship in the ARC in 2011. Since then, he has focused his time and energy on promoting the sport while he has been building his new rally car. Usually extremely competitive, Charlie is looking forward to the experience of introducing someone new to the sport.

"The most fun I've ever had in a rally car was at the Rally of the Bay in 2012 when I took competition winners through the event as a course car," recalls Charlie. "I've had my time as a serious competitor and am now looking forward to developing someone else's passion for the sport."

The winner will be selected from a pool of four finalists, who will all be taken to RallySchool, Sydney on 13th December, and required to participate in a series of challenges that will demonstrate their basic understanding of the art of co-driving and test their ability to handle the pressure inside a rally car.

Bernie Webb, prominent rally co-driver and owner of Smoothline Notes, will provide two private tuition sessions to the winner, to teach them everything they need to know, including the co-driver's role in organising the team, time-management and, of course, writing and reading pacenotes.

The winner will have a helmet and HANS device, supplied by VSport, and their driving suit, balaclava and driving boots will be supplied by Revolution Racegear Canberra.

Entries to the competition close on 31 October, 2015. To enter, visit rallynsw.com.au/win or the Rally NSW Facebook page.


229 Views
» Random Image